Welcome to Eat Smart Sheffield
We hope you will join us on our mission to help give children, their families and the wider community the confidence, skills and knowledge they need to cook, grow and enjoy good quality affordable food.
Ultimately, we want to encourage and support Sheffield to 'eat smart'!
The benefits of our programme are wide and varied, and extend from helping individuals to classes to whole year groups, schools, families and communities.
These include:
Improving physical and mental health and wellbeing
Improving school attendance, attainment, focus and behaviour
Ensuring adherence to the School Food Standards
Ensuring food in schools is healthy, affordable and accessible to all
Contributing to meeting Ofsted requirements to support children and young people in keeping themselves healthy
Supporting the National Curriculum in ensuring all pupils have the opportunity to get involved in cooking, growing and farming activities
Embedding long term, sustainable healthy behaviours and life skills
Sheffield schools strive to provide good food for all
Did you know, Food for Life has a proven track record of working with schools and additional settings to transform their food culture?  With a network of over 4,500 schools across England!
And as a result of our partnership with them, 70% of children in Sheffield have access to Food for Life Served Here certified meals; that's nearly 20,000 meals every day!
In addition, around 100 teachers have accessed Food for Life training in order to integrate good food throughout schools.
All this and more has been achieved since Eat Smart Sheffield began in September 2019, and we are delighted to be able to share with you a 3-year impact report into our Food for Life activity.
 We hope you'll agree this is a real celebration of the partnership and of the real-world impact of our collaboration, even in trying times!
You can read more and access the three-year impact report, Sheffield schools strive to provide good food for all – Food for Life HERE.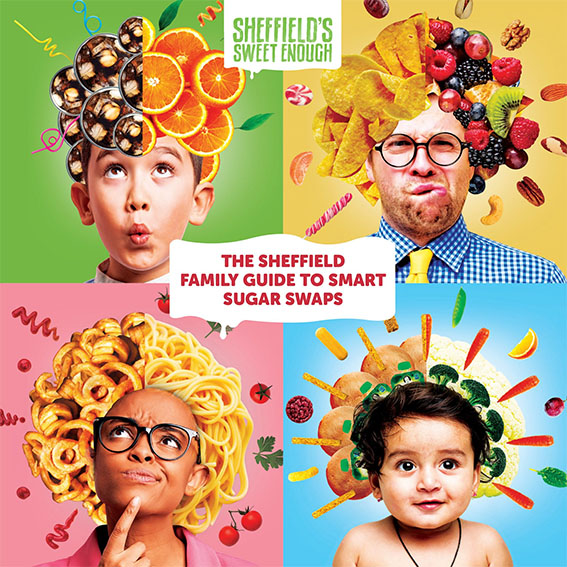 THE SHEFFIELD FAMILY GUIDE TO SMART SUGAR SWAPS IS HERE!
We asked local parents, students, nutritionists and business owners to share their low-sugar recipes so that everyone in Sheffield has the best chance of making good choices on sugar. The result is this fabulous little book of ideas, beautifully designed and easy to follow!
For every copy you purchase, we will give one away for free to someone in the community. Free copies of the book will be available at local community centres, schools and libraries across Sheffield.
Explore our webpages where you'll find further details of what we have to offer including our resources, training opportunities, and newsletters.
If you can't find what you're looking for or simply want more information, please do not hesitate to contact us.
Email: eatsmartsheffield@learnsheffield.co.uk
Tel: 0114 250 7417